Newsletter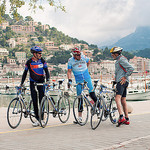 Welcome
Click the bulleted links to the right for more information about Dr. Giliberto and our clinic (hours, insurance accepted, etc...)
Dr. Giliberto runs a family-oriented practice that cares about your health. She treats most musculoskeletal injuries for adults and children, including pain in the spine, the extremities and headaches. She has over twenty years experience with accidents and injuries as well as specialties in treatment of competitive and performing dancers, runners, equestrians and other sports-related problems.
Dr. Giliberto operates a full-therapy facility with complete diagnostic, radiologic, and rehabilitative services. Several massage therapists are available to ease tension and stress. Emergency cases are treated the same day.
Special payment programs are available by request on a per patient basis. Call to see if your insurance or PPO is covered.
▶ Giliberto Chiropractic Clinic
6800 Indiana Ave
Ste 170
Riverside, CA 92506-4266
951-784-2600
fax: 951-781-9443
drlorrainegiliberto@hotmail.com